Your script can only be as good as the models you are copying
Get precise copies of the best historical exemplars for Copperplate and English Round Hand...
By studying and practicing with our high quality exemplars, you will be able to understand the underlying principles of capital formation, find out the ways to make them fancier, and be equipped to build your own variations more easily.
Get inspired and build your own library of copperplate variations with these exemplars gathered from rare copybooks published between 1680 and 1900!
Get 10% off 5 or more catalogues with code BUNDLE
Get 10% off 5 or more catalogues with code BUNDLE
What you will find inside the Catalogues :
A Penna Volans Catalogue contains many variations of a single capital letter or type of flourish, sourced from copybooks published between 1680 and 1900. In some cases, you will also find variations for lowercase letters and ideas for monograms and signature designs (connected capitals).
Over the course of the 2 centuries covered by our research, the English round hand changed quite a bit, so you will also see some variations inherited from the 17th century Italian Hand, and some that have common traits with Engrosser's script and even Spencerian.
Flourished ascenders, descenders, entry and exits for lowercases are covered in separate catalogs.
Click the pointers below to know more about what's included.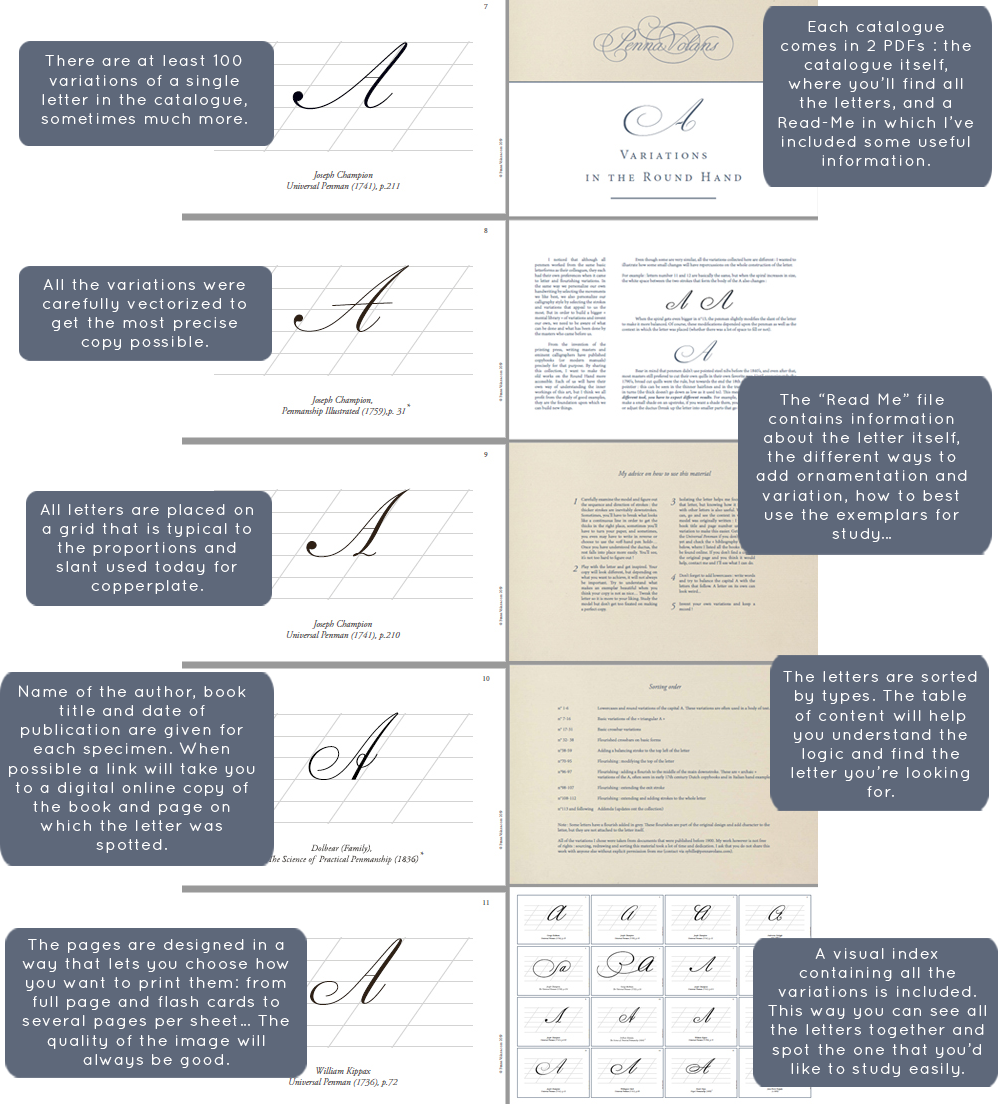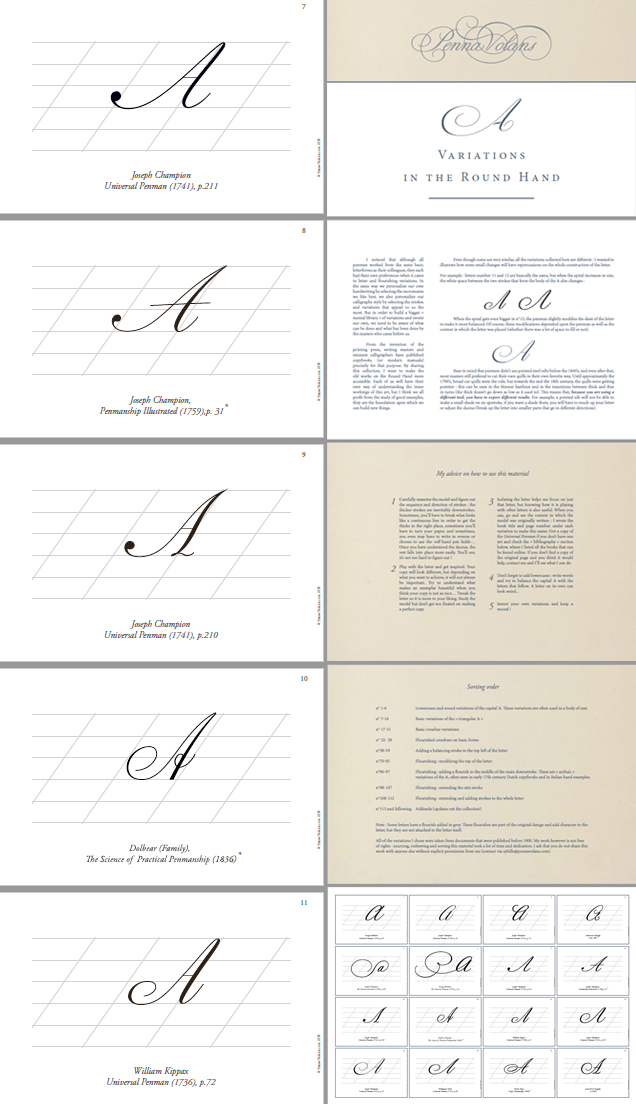 Each catalogue comes in 2 PDFs : the catalogue itself, where you'll find all the letters, and a Read-Me in which I've included some useful information
There are at least 100 variations of a single letter in the catalogue, sometimes much more.
All the variations were carefully vectorized to get the most precise copy possible.
All letters are placed on a grid that is typical to the proportions and slant used today for copperplate.
Name of the author, book title and date of publication are given for each specimen. When possible a link will take you to a digital online copy of the book and page on which the letter was spotted.
The "Read Me" file contains information about the letter itself, the different ways to add ornamentation and variation, how to best use the exemplars for study…
The letters are sorted by types. The table of content will help you understand the logic and find the letter you're looking for.
A visual index containing all the variations is included. This way you can see all the letters together and spot the one that you'd like to study more easily.
The pages are designed in a way that lets you choose how you want to print them : from full page and flash cards to several pages per sheet… The quality of the image will always be good.
I described my own way of studying from historical exemplars in this post.
Still have some questions ? Check out the FAQ below.
The art of flourishing can be hard to learn. These collections of variations will help you develop your own mental "library of strokes", which will make it easier for you to create beautiful flourished layouts. 
Flourishes stem from specific places in the letterforms : entry and exit of lines, and above and below the line. Studying capital variations is a nice way to start adding flourishes to your "toolbox".
The catalogues of Ascenders and descenders will more specifically help you with flourishing above and below the line. Between the two of those, you will find more than 300 possible ways to add ornamentation to your calligraphy. Other catalogues will be released for flourished entries and exits on lowercases.
In these catalogs, you will find "letter-less" flourishes that you can use for any letter with ascender or descender… Lowercase "f" can be found in the descender catalog.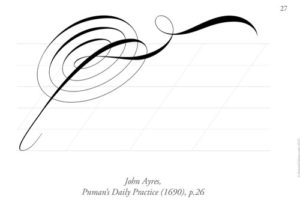 You will find lots of advice about flourishing in this post.
"Having something like this as a beginner would have been a huge help! When I started I was really confused by all the different models available, and had no understanding of what "real Copperplate" was, all of that was totally opaque and it took me years to find out more. This resource is excellent for beginners and advanced calligraphers alike".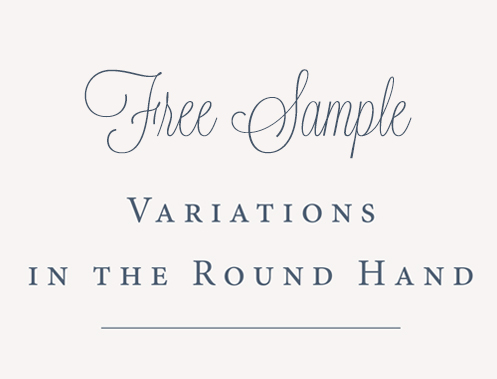 The free sample catalogue will show you the kind of exemplars you will find in the full catalogues sold above. It contains 3 full alphabets of capital letters (from A-Z), taken from 3 copybooks from the 18th and 19th century. These are great basic letterforms, suitable for beginners as well as more advance pointed pen calligraphers.